Jakarta – Jovi Adhiguna conveyed his apology because the video of mixing pork crackers in meatballs at a halal restaurant received controversy. Justify acting stupid. Jovi admitted that he did not think about the impact of his actions.
Apparently, Jovi Adhiguna bought the pork crackers while at the Bali airport. What's the apology like? Let's take a peek at his narrative!
Admitted Acting Stupid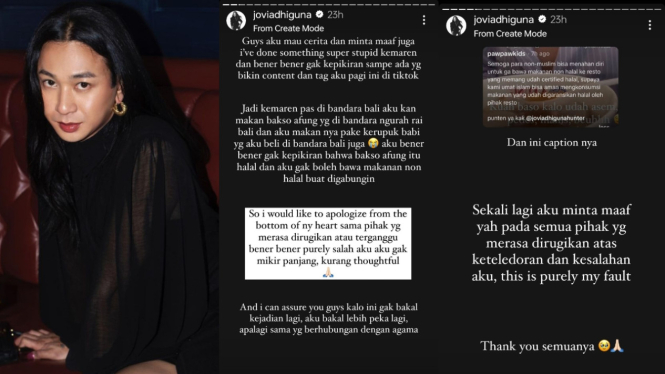 Photo : Instagram/joviadhiguna
Jovi Adhiguna admits that he acted stupidly with the video content of eating halal meatballs mixed with pork crackers at a halal restaurant. Apparently, he bought the pork crackers at Ngurah Rai Airport, Bali, not at the meatball restaurant where he ate.
"Guys, I want to tell you and apologize too. I've done something really stupid. Yesterday and I really didn't think about it until someone made content and tagged me in the morning on TikTok," wrote Jovi Adhiguna as reported by IntipSeleb from Instagram Story, 18 July 2023.
"So yesterday, right at the Bali airport, I ate *f*ng meatballs at Ngurah Rai Bali Airport, and I ate them using pork crackers that I bought at the Bali airport too. I really didn't think that *f*ng meatballs halal and I can't bring non-halal food to be mixed in," uche admits.