Jakarta – ANTV Lovers' favorite sports show, One Pride MMA, is back to present hot duels for tough fighters in their respective classes on Saturday Night, 15 July 2023. As usual, 5 fierce matches were presented at the One Pride MMA Fight Night 70 event.
One that cannot be missed is the action of (The Kong) Reinaldo Kasibulan from Kotamubago and (The Cat) Alfiandi from Southeast Sulawesi. What's their duel like? Let's take a peek at the competition!
Catchweight Class Match 61.2 Kg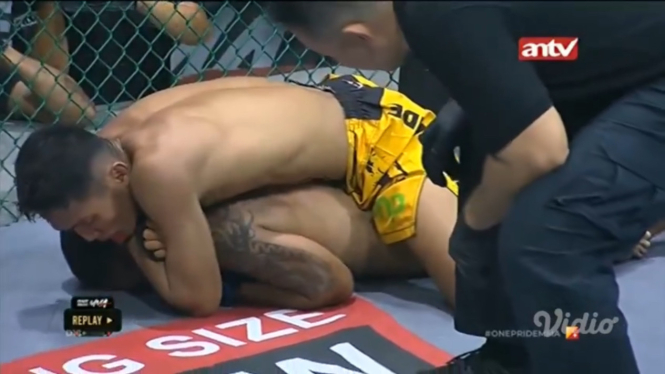 Photo : Vidio.com/Antv
The match this time was quite interesting because Alfiandi's opponent, who actually could not compete due to injury, finally chose a replacement fighter, Reinaldo Kasibulan, a former thug who was quite aggressive.
Even though he was only ready for a week, Reinaldo was confident of beating Alfiandi. Evidently, in the first round he was very aggressive, immediately sent a strike at Alfiandi's feet until he finally brought him to the corner of the octagon. The attack also caused bleeding on Alfiandi's head.
Even though Alfiandi had turned things around and dominated the top positions, in the 2nd minute it seemed that Reinaldo was able to turn things around again. However, Alfiando was able to lock in a triangle choke to lock Reinaldo's neck. Then, entering the 3rd minute, Alfiandi performed the arm bar technique.