Jakarta – Farhat Abbas also highlighted the conflict that occurred between Dewi Perssik and the local RT head named Malkan. Through his personal Instagram, Farhat expressed his anger at Dewi Perssik's statement regarding the case of the sacrificial cow which was rejected by the local RT.
So, what did Dewi Persik say? Let's check in the following article!
Sindir Dewi Perssik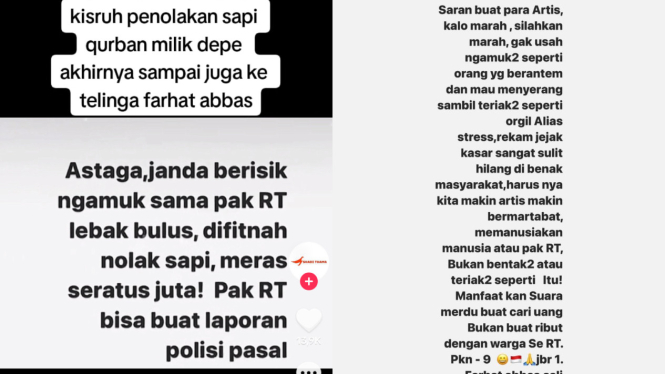 Through his personal Instagram, Farhat Abbas gave a striking satire on the viral case of refusal of sacrificial cows. Even though he didn't mention a name, many thought that Farhat Abbas' satire was directed at Dewi Perssik.
"Gosh, the widow was noisy at Lebakbulus RT, slandered against cows, extorted one hundred million!" wrote Farhat Abbas in uploading Instagram Stories, quoted from the TikTok video @shadithama, Friday, June 30, 2023.
Nia Daniaty's ex-husband also supports the RT head in Lebak Bulus to report Dewi Perssik for defamation.