PeekSeleb – ANTV digital TV broadcasts can now be enjoyed by residents in 16 regions of the island of Java which include Cirebon UHF 35, Garut UHF 31, Sukabumi UHF 35, Sumedang UHF 31, Majalengka UHF 31, Tegal UHF 36, Blora UHF 40, Pati UHF 40, Purwokerto UHF 25, Malang UHF 37, Jember UHF 33 , Banyuwangi UHF 37, Kediri UHF 33 Madiun UHF 31 starting July 20 2023 at 24.00 WIB.
Make sure that loyal ANTV viewers re-scan the Set Top Box (STB) and find ANTV digital broadcasts so they can enjoy the cool Bhagya Lakshmi series and other ANTV top series with cleaner, clearer and more sophisticated quality. Let's take a peek at the following article below.
16 Regions of Java Island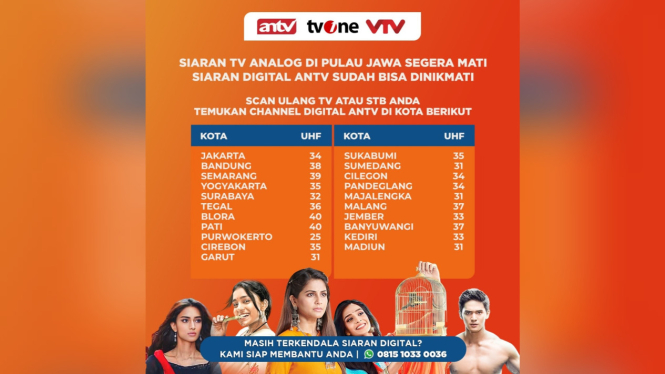 Photo: ANTV
According to ANTV's Corporate Communications Manager Riyandri Tjahjadi, tonight we will do an analog switch off in 16 areas of the island of Java, to be able to enjoy digital ANTV broadcasts again, viewers must connect their television to the STB device and scan again tonight at 24.00 WIB.
If you are still having trouble receiving digital broadcasts at home, we are ready to help by contacting 0815 1033 0036.
"Hopefully, with the presence of digital broadcasts in 16 regions of the island of Java, viewers who previously could not receive digital broadcasts can now enjoy the continuation and excitement of the cool Bhagya Lakshmi series more," said Riyandri.