Jakarta – Inul Daratista and Adam Suseno are an iconic married couple who often share intimacy in their daily lives. After successfully guiding the ANTV Dream House variety show, now the two of them are returning to greet ANTVLovers with a different concept.
Inul Daratista will be a beautiful household assistant who likes Adam Suseno who is the security guard where she works in INUL SISTA. So how about more information? Come on, check below.
Inul Daratista and Adam Suseno Become INUL SISTA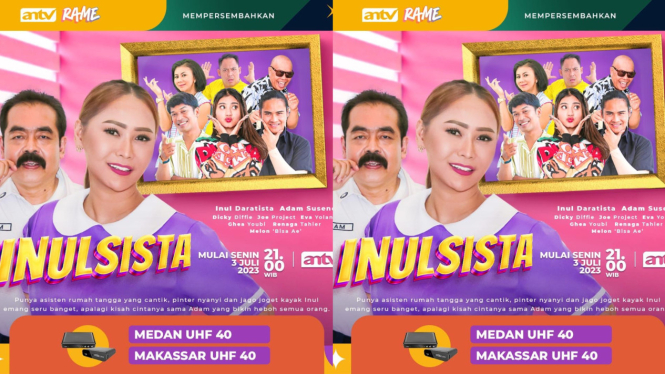 The newest comedy series program from ANTV, INUL SISTA is ready to accompany viewers starting Monday, July 3, 2023, at 21.00 WIB on ANTV Rame.
"ANTV always tries to provide a variety of shows and this time we are presenting a sitcom series with all of our favorite couples, Inul and Adam. We hope that the Inul Sista program can add color to the rise of entertainment programs in the country and entertain ANTV loyal viewers after a day of activities," said Kiki Zulkarnain as ANTV's Chief Program & Communication Officer.
INUL SISTA tells the story of Inul (Inul Daratista), a beautiful young maid who works in the home of a wealthy family, a successful business couple, Juragan Koswara (Joe Project), husbands who are afraid of their wives & Buragan Karina (Eva Yolanda) who live glamor and likes to gossip.