Jakarta – One Pride MMA 70 will air tonight, Saturday 08 July 2023 starting at 22.00 WIB. Exciting matches will be broadcast live on ANTV.
The two final contender fights and the fight for the atomic class championship belt will be an interesting treat at One Pride MMA 70 Jakarta. The fight took place at Plaza Festival, Kuningan, South Jakarta. Check out the full match schedule!
Match Schedule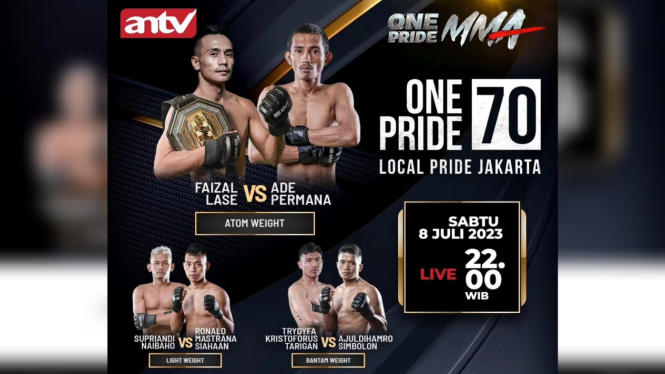 The duel for the atomic champion belt is the main dish of the most prestigious MMA event in the country. There is Faizal Lase who will be challenged by a fighter made by Bandung Fighting Club, Ade Permana.
This match was the first opportunity for Faizal to defend his title. The Kanibal won the atomic class championship belt after defeating Novan Kaunang in November 2022.
Apart from that, there was a battle that was no less exciting, presented between Supriandi Naibaho and Ronald Masstrana Siahaan. The two of them will fight in the lightweight class final contender (70.3kg lightweight). In the North Sumatra Derby duel, Ronald Masstrana was a fighter trained by Jeka Saragih. Meanwhile, Supriandi Naibaho is a fighter made by Warrior MMA.