Jakarta – Former beautiful presenter Rey Utami is back to share this Eid al-Adha 2023. Participating in the sacrifice of a large cow, Rey Utami shared blessings around her residence with the residents of Sentul Bogor.
Not only that, in order to make the local people happy, Rey also shares a little fortune with those closest to her. Is it true? Check out the following article!
Follow the Sacrifice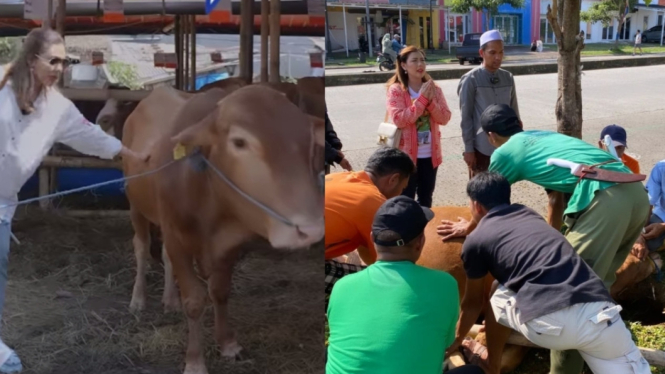 Rey Utami and her husband Pablo Benua took part in celebrating Eid al-Adha as Muslims, and also sacrificed cows to be slaughtered around their house. He distributed the large brown cows to the residents of Jl. Jungle Land Avenue Ruko Block C3B No 31, Babakan Madang District, Sentul, Bogor Regency.
Not only that, the former sports presenter also invited his neighbors to get together and share hundreds of thousands of rupiah in cash. Like giving happiness to local residents, neighbors Rey Utami and Pablo Benua are flooded with fortune.
"Let's meet at 10 days of Eid al-Adha at the Sentul City Reyutami Culinary House," wrote a statement in Rey Utami's upload, reported Thursday, June 29, 2023.