Depok – The Minister of Youth and Sports of the Republic of Indonesia (Menpora RI) Dito Ariotedjo witnessed and gave prizes to the winners of the equestrian tournament entitled Djiugo Next Adventure at the Arthayasa Stable Equestrian Arena, Depok City, West Java, Sunday, July 9 2023.
Come down right away and give a special gift to Ingrid Remanthy. Curious? Let's take a peek at the article.
Equestrian Tournament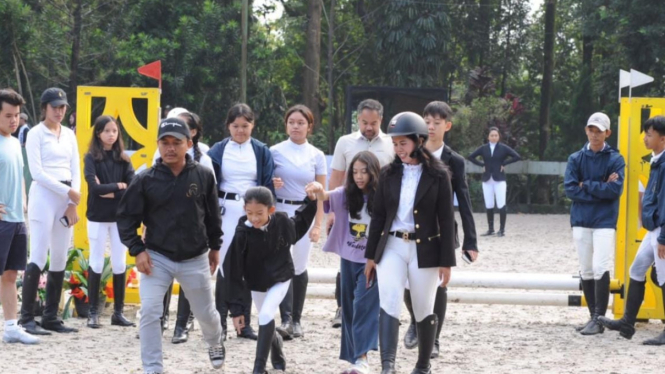 Photo: Special
The Ministry of Youth and Sports (Kemenpora) gave appreciation to Arthayasa Stables for working hard to hold an equestrian tournament.
This time, the film star and producer of Little Angel, Inggrid Remanthy, came down for the first time with her new horse, named Melati Glorisah, which is able to carry the name of the Anantya Riding Club school located in Karanggan, Gunung Putri, Bogor district, West Java.
Rhemanty is very grateful for being able to buy up achievements at the Djiugo Next Adventure event. After that, Ingrid Rhemanty must prepare herself to compete again at the IHL Indonesia Horse Lover Festival & Fei Jumping World Challenge Series 2023 on Saturday, Sunday, 15 -16 July at Equinara Pulo mas, East Jakarta with the big family of Anantya Riding Club School with a coach or coaching by Rahmat Natsir and Sandi Sonitan.