United Kingdom – With the title 'Neck Deep Live in Australia and Asia', this pop-punk band from the United Kingdom will entertain their fans in Indonesia. The concert will be held by promoter Otello Asia in Surabaya (15 September 2023) and Jakarta (16 September 2023).
Unlike usual, this concert will be held in an indoor area. Come on, take a peek at the explanation from the promoter.
Concert Concept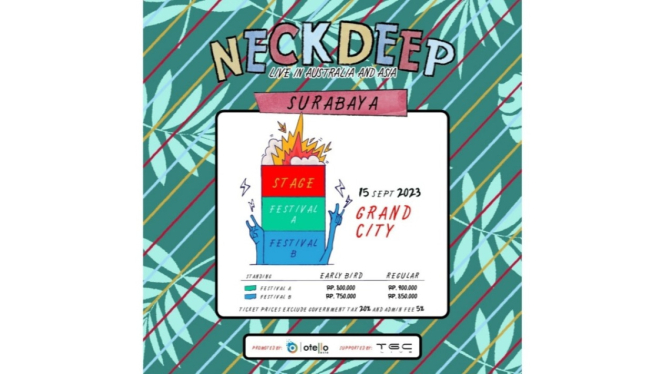 Photo: Special
"This will be the first time Neck Deep has come to Surabaya and the third time Neck Deep has come to Jakarta. The difference is, previously Neck Deep's concerts were often held at outdoor venues, now Neck Deep will perform at indoor venues. So, through this concert, we want to fulfill the wishes of Neck Deep fans in Surabaya and Jakarta who long to see Neck Deep singing their hit songs more closely," Sysan Ibrahim, CEO of Otello Asia, told reporters.
"The concept of the concerts in both cities, Surabaya and Jakarta, is an indoor venue which will be packaged spectacularly. So that the concert will allow fans to witness Neck Deep's performance singing their hit songs such as 'Wish You Were Here' and 'December', as well as their latest single 'Heartbreak of the Century' in a more comfortable and intimate way," he continued.
Ticket price