Jakarta – After successfully holding a sports match with Again Again Tennis, Raffi Ahmad is again holding a special sports event for Indonesian celebrities entitled Indonesian Celebrity Sports Tournament.
When holding a press conference, there was an interesting moment from Raffi Ahmad's words that caught his attention, namely mentioning his wife, Nagita Slavina and his brother-in-law Jeje Govinda as a patient couple. Like what? Here's the full narrative.
Call Gigi and Jeje Will Be a Pair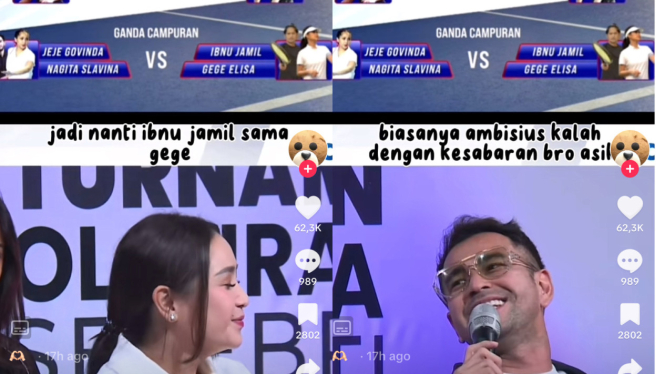 During the press conference, Raffi explained, the Indonesian Celebrity Sports Tournament would open 4 sports, namely badminton, table tennis, tennis and athletics. Later there will be around 40 well-known celebrities from the country competing.
Some of these famous artists include Raffi Ahmad, Nagita Slavina, Cinta Laura, Rizky Billar, Lesti Kejora, Rezky Aditya, Hesti Purwadinata, Fadil Jaidi, Fuji, Aldi Taher, Ibnu Jamil, Jeje, Dion Wiyoko, Thariq Halilintar, and others. The event will begin on Saturday, July 8 2023, at 14.30 WIB, held at the Jakarta State University Sports Hall, Rawamangun Jakarta.
Raffi explained that in the tennis match, later Nagita Slavina would play again but in the mixed doubles sector with Syahnaz Sadiqah's husband, Jeje Govinda. Interestingly, Raffi revealed that Gigi and Jeje are a patient couple and have the possibility of winning.