Jakarta – RK Atok, husband of Meylisa Zaara, has clarified the accusations of being a same-sex lover and having an affair with his male friend. In fact, RK Atok stated that the expression of longing for fellow men was normal.
Even though RK Atok has expressed his denial, Meylisa Zaara is hesitant to delete their wedding video. Like what? Take a peek at the article!
Delete Wedding Video with RK Atok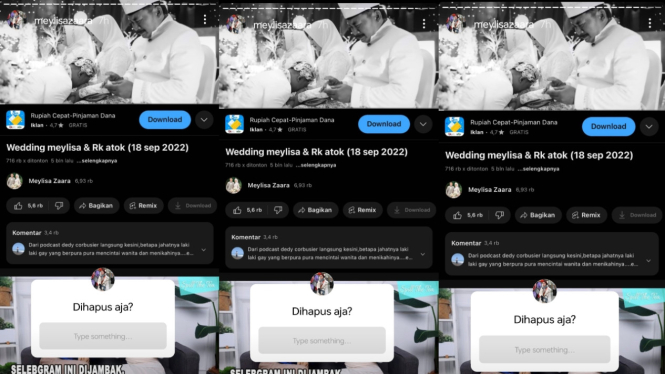 Photo : Instagram/meylisazaara
Through her Instagram, Meylisa Zaara asked netizens. When asked, Meylisa attached a screenshot of her wedding video with RK Atok.
The wedding video for Meylisa Zaara and RK Atok was uploaded on September 18, 2022. "Wedding meylisa & RK tok (18 sep 2022)," That's the title of the video shared by Meylisa's channel account.
"Deleted it?" wrote Meylisa Zaara, reported by IntipSeleb on Tuesday, July 25, 2023.