Jakarta – Denise Chariesta was highlighted for making an open donation to pay for the cost of giving birth to her child. He also insinuated Uya Kuya to Dr. Richard Lee for not contributing to the donation.
Recently, Uya Kuya finally donated IDR 5 million to pay for Denise Chariesta giving birth. But the flower seller celebgram even felt humiliated. What is it?
Denise Chariesta Marahi Uya Kuya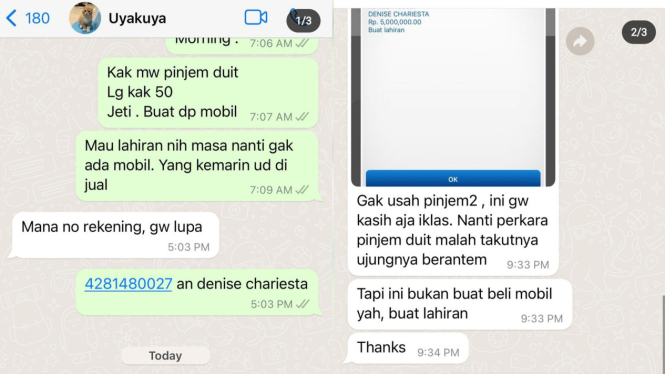 Photo : Instagram/denisechariesta91
Although previously teased by Denise Chariesta, Uya Kuya finally contributed some money to help pay for Denise Chariesta to give birth to her child.
This can be seen from the screenshots of the Whatsapp conversations uploaded by Denise Chariesta herself.
"Sis, I want to borrow another 50 million. Make car dp. Do you want to be born at a time when you don't have a car? which was sold yesterday wrote Denise Chariesta sending a message to Uya Kuya, reported by the upload on her personal Instagram on Friday, July 21, 2023.